Predator and prey battle-
Tyrannosaurus rex and Triceratops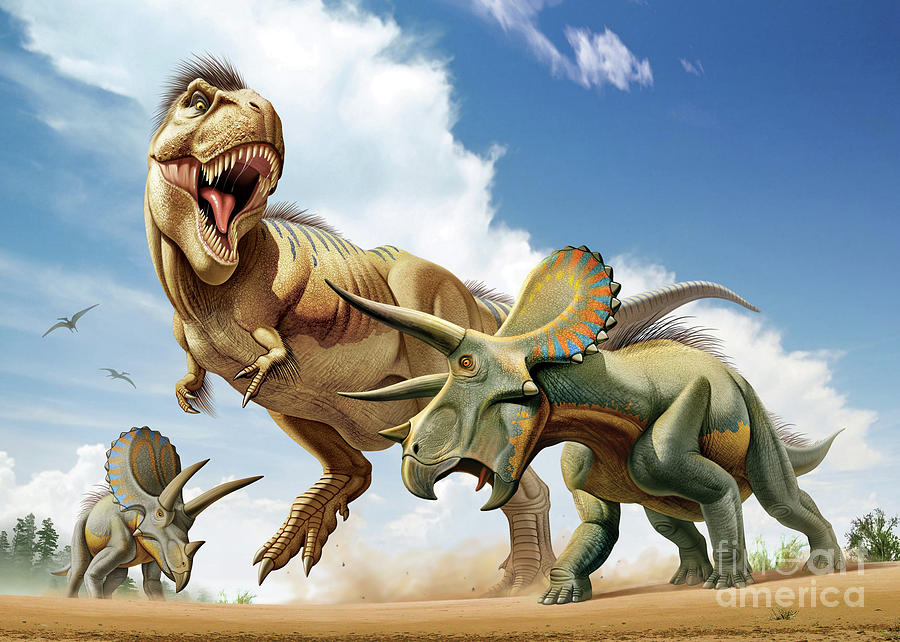 This is my first written story on my DeviantArt account. This story, though more of a scenario, will be the first to concern my visual ideas and concepts of how dinosaurs lived their lives in the Mesozoic Era.
The first scenario will be about a fight between a
T. rex
and a
Triceratops
, as predator and prey. Keep in mind that I'll try to be as accurate as I can, since dinosaur theories often change over time, so I'll leave out several theories, just in case. I researched some paleontology articles to get my ideas for this scenario. And I've made one of the dinosaurs to be the winner of the battle, whether T.rex or Triceratops.
Here it is. Enjoy.
Deep in the heart of the Cretaceous period, approximately 67 million years ago, a lone Tyrannosaurus is walking through a forest, searching for a meal.
As the carnivore walks on, he comes to a clearing, where the plains meet the forest. Seeing an open field with several large trees, T.rex looks in the distance, hoping to catch sight of a large animal to prey on. Looking to his right, T.rex doesn't see anything except a couple of Pteranodons getting a drink from a waterhole.
Knowing that these were flying animals, and that there was no way he could hide himself without the Pteranodons noticing, T.rex ignored them. He looked straight, but saw nothing. He then caught a whiff of a large herbivore, thanks to his superb olfactory bulbs (sense of smell), and turning to his left towards an open field, sees a Triceratops.
Seeing no herd, he decides to take this opportunity to get a meal.
If this was an Edmontosaurus, T.rex would charge and try to come close enough to fatally bite it. But since this was a Triceratops, T.rex needed a more thought out plan. He moved behind some trees that were opposite of the clearing, and peered to look out at the Triceratops, who by now had moved his position and was facing T.rex's left.
Still needing more time to plan, T.rex walked some more distance until it was aligned with the Triceratops. This, coupled with that the Triceratops was facing away from the scheming predator, was T.rex's chance.
Triceratops then raised his head, catching a smell of something. Something he feared. Just as Triceratops sensed the scent of T.rex, T.rex charged. He kept his mouth closed, waiting until he got close enough to use his massive jaws on the hapless herbivore, or so hapless as it seemed.
Triceratops turned and faced the T.rex, standing his ground and displaying his horns. This was a young adult Triceratops, who was healthy and showed no sign of injury or disease, and was certainly a match for the T.rex. Hesitating for a moment as he stopped some safe space from Triceratops, T.rex pondered on what to do. He studied the horned herbivore, looking for a weak spot. With his jaws open partly, T.rex looked over as he tried to discern a chance to attack and possibly fatally injure Triceratops. T.rex moved back a little as Triceratops waved its horns and made noises for his herd to hear.
Finally, T.rex decides to lower his head and try to bite down on one of Triceratops's front legs. Triceratops had raised his head slightly when he saw the enemy lunging forward, and quickly Triceratops swung his head sideways in an attempt to counterattack the predator.
This attempt at counterattacking results in Triceratops's side of his head colliding with T.rex. Although the horns are not in an angle that allows Triceratops to injure T.rex, Triceratops's head frill keeps T.rex from gaining enough space to bite down on one of its legs. T.rex stubbornly tries to force his way to Triceratops's leg, and after gaining some firmness on the ground, T.rex brings his jaws down and manages to slip downwards a little and a few of T.rex's teeth scratch Triceratops's leg. Though not particularly deep, the scratches from T.rex's teeth are enough to make Triceratops yelp out in reaction to the pain. But Triceratops then brings his head to a narrower angle which prevents T.rex from doing any more damage.
Finding himself momentarily outmatched, T.rex decides to step back several steps, and then uses the empty space between them to bite down on Triceratops's frill, to try to hold Triceratops in place. As a defense mechanism, Triceratops plants his feet firmly on the ground and while he gets dragged a little across the surface, he does not stumble. Although T.rex has succeeded in biting his frill, Triceratops has another defense. Triceratops leans forward and bites T.rex in his own leg, with Triceratops's sharp beak-like mouth causing a rather deep wound. T.rex cries out and stumbles backward, and this allows Triceratops to use its horns to make deep scratches across T.rex's side. T.rex cries out louder in pain, and steps back, focusing on his pain.
The time in the battle spent has allowed members of Triceratops's herd to arrive and they all make deep bellows at T.rex and wave their horns. Outnumbered, and not wanting to get severely injured, T.rex backs off. The Triceratops then go back to their usual browsing and socializing with each other, while T.rex walks off, deciding to instead find easier prey later.
So the winner of this battle was
Triceratops
! A healthy adult Triceratops would have been a challenge, since according to paleontologists Triceratops was built low to the ground, which would have endowed it with a very stubborn center of gravity.
Also, Tyrannosaurus was indeed a fearsome predator, but it and other large predatory theropods may have preferred to hunt the old, young, and sick/weak individuals, since they would have been easier to bring down.
I hope you enjoyed this hypothetical dinosaur battle scenario, and more dinosaur scenarios will be on the way!